Laptop Screens
Please select your screen size below, for free advice or help selecting your screen, don't hesitate to contact us.
We can also install your new screen into your laptop and return it to you via post or you can collect it at our store. Don't hesitate to contact us to arrange a new screen fitting or advice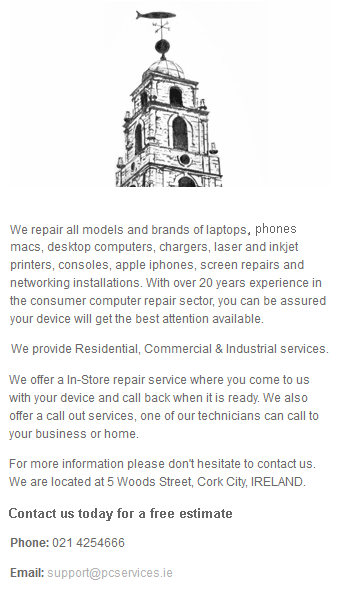 Contact us
You can contact us to arrange an on-site visit (at a time suitable to you) and we complete 99% of repairs on site, there and then! or you can arrange a call out to your business or home. Our technicians carry a range of quality spare parts and software, enabling us to ensure your computer is up and running again with the minimum of fuss and delay.

Home & Business Call Outs.

Free Customer Parking.

In Store Service.

Free Estimates.


We are open 6 days a week, Monday to Friday 9:00am to 7:00pm. Saturday 12:00am to 5:00pm, we are closed on sundays. Don't hesitate to contact us for more information.
Address: 5 Woods Street, Cork City, Ireland.
Phone: 021 4254 666
Fax: 021 4254 667
Email: support@pcservices.ie