Laptop / Mac Repairs




Laptop / Apple Mac Repairs

Laptops are a crucial part of lives of almost everyone. Is a laptop begins to have software of hardware concerns then gradually its performance begins to go down. It is important to have a fine tuned machine that is well maintained to ensure its optimal performance. PC services are a professional organization that specializes in repairing laptops of different size and makes and Apple Mac's. We deal in brands like Toshiba, HP, Sony, Dell, Acer, Compaq, Lenovo and Apple Macs.

The problems in such machines can come up due to various factors such as virus infection and software corruption, hard drive and keypad malfunction, optical drive malfunction, hardware upgrade and replacement, etc. PC services helps you to fine tune and maintain your machine and get the best performance out of it. We offer onsite and offsite support for your laptop. Apple Mac repairs.

Software Repairs Virus Removal

Hard Drive Replacement & Upgrades Hardware Repairs

Hardware Upgrade & Replacement. Full Desktop Service

Data Recovery & Backup.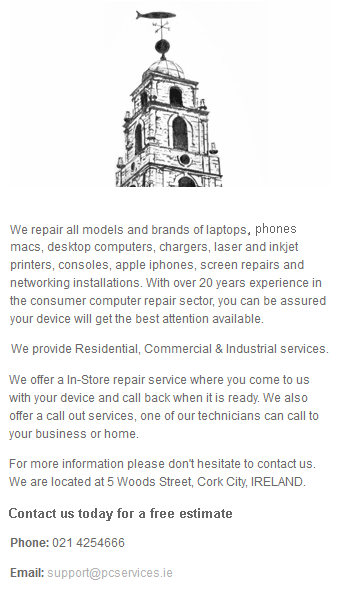 Find us

Our store is located in the City Centre, Off Washington Street.